Account Manager
DynIP Basic Service - Free Introductory 30-day trial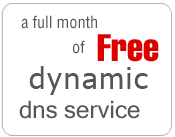 Introduce yourself to the benefits of the worldwide web when you move beyond the limits of your internet service provider. With DynIP's proven and reliable Basic service you can:

Quickly install and easily run the premier dynamic DNS service for more control and flexibility on the internet.



Establish your own personalized website and e-mail addresses by creating an internet name and combining it with our well-established domain name (like www.yourname.dynip.com and name@yourname.dynip.com).



Change internet service companies, without having to change your DynIP website or e-mail address.



Access your computer files (including printer and video feed) from another location.



Provide a courtesy message to tell your website visitors that you're offline.



Free technical support and subscription assistance from the people who pioneered dynamic DNS technology and continue to lead the field in service innovation.



Earn a credit for the balance of your basic subscription, when you upgrade your DynIP subscription to the Pro or Enterprise service. Upgrading is easy and you can do it any any time!